Quality and Environmental Protection
The quality of precast concrete production is assured by the implemented integrated quality management system, conforming to LST EN ISO 9001, while process compliance with environmental protection requirements is assured by the environment protection management system, which complies with LST EN ISO 14001. At present, at the Company, LEAN collection of techniques and 6 Sigma quality tool are being implemented that will allow optimizing business management processes and increased production capacity.
The construction sector imposes a heavy burden on the environment in terms of energy consumption, use of resources, pollution and waste, the importance of sustainability in construction is therefore obvious. There is necessary of new approaches to every stage in the life of buildings - approaches that will meet the challenges of increasing human needs while conserving and protecting the environmental quality and natural resources.
Concrete structures in general and prefabrication in particular have better opportunities than most other modern building materials to satisfy demands for sustainable construction. However, designing for sustainable development means not only using recyclable building material and reducing energy consumption while building, but also developing new ideas and strategies with a view to sustainability during the entire life cycle of buildings.
As a part of its environmental policy "Betonika" undertakes the following tasks:
To save energy and raw materials during production process.
To avoid and maximally decrease harmful emissions in order to decrease impact of its activities on environment.
To plan and develop production processes those create less waste and to support recycling of materials and components or their repeated use.
To provide compliance with the International Environment Management Standards ISO – 14001:2005.
To act seriously and actively in accordance with all laws and directives related to environment.
Closed-Loop Production Cycle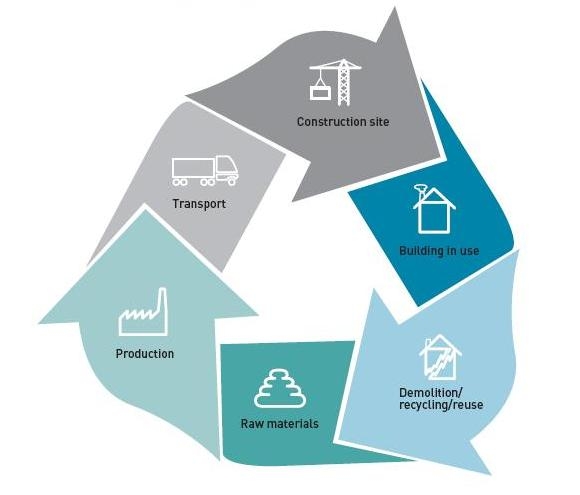 In the future, precast concrete factories will function as closed-loop production systems, where all waste is recycled and utilized.
Betonika UAB, a company producing precast concrete, together with other Consolis companies, makes efforts to achieve that precast concrete production would become a closed-loop cycle. Then, all substances from fresh concrete residue, liquid cement mass residue etc. will be separated in precipitation tanks, while the water will be treated and re-used. Hardened concrete waste would be crushed and re-used as well. Steel waste would be returned to steel furnaces. Even excess heat that is necessary for heating during production process would be collected in heat station and re-used.